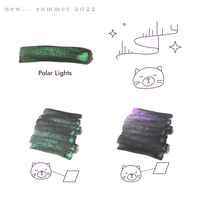 Shimmer inks with an extra dimension
Our newest shimmer inks exhibit color-shifting particles for that extra ✨pop✨ in your writing.
Handmade with love
We offer an artisanal alternative to contemporary fountain pen inks. Everything from the mixing, bottling, and packaging is done by hand.
Honest prices
Show your support for the little guys! Our inks maintain an economic price-to-mL ratio because we don't put a premium on them. 100% of your purchase goes to the materials, transport, and directly supporting the people creating your ink.
Always experimenting
The joy of discovery is very much alive with every new and exciting thing we find in this century-old medium.